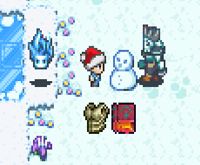 Winter is here! I've been pretty busy but managed to sneak in some content for the season. The first part of the new Snowtop Peaks area is ready with a couple new mobs as well. More content will be added to that later. Frostbite is a new area slowing ability which is great for pvp, getting by some nasty mobs, or trolling. Read on for a few more changes:
A santa hat has been added for supporters. The pumpkin head has been retired but is still available for supporters to use. Thanks to Ezekyuhl for the hat and all the hard work on the new snow area. Kaylovespie also added a new snowman costume (costume 1).
There is finally a low level heavy armor: Bone Armor. So newbies can start training heavy early if they want.
The uh, special event where dire wolves try to invade the easy levels of the underworld has come to an end. That's what it was, a special event.. you guys won and they are retreating back to the depths!
Speaking of the depths – A warning about Liches: They are ranged and very dangerous. They will follow you across the map like reapers, but they wont leave their current map.
The skeleton boss now has a chance to summon a summoner when he gets desperate.
Wool growth from sheep has been sped up and the amount you can get per sheep has been increased. For those that don't read my dev notes I should mention that animal breeding has been changed since the last major patch. Check the farming section of the guide for more details.
There was an issue with IOS devices (when playing in browser) where the keyboard would continually pop up – that should be resolved now. A bunch of other bugs have been fixed, keep the reports coming! I will be working on more bugs, server lag, and stability soon. Google play store payments didn't quite make it into this patch but it's almost ready. Thanks for all the support and stay warm out there 🙂